The home of naturally beautiful furniture and homewares
Discover our collection of solid Wood TV Stands & Media Units. From timeless solid hardwood to sleek contemporary styles, our handcrafted pieces will elevate your TV nook to the next level.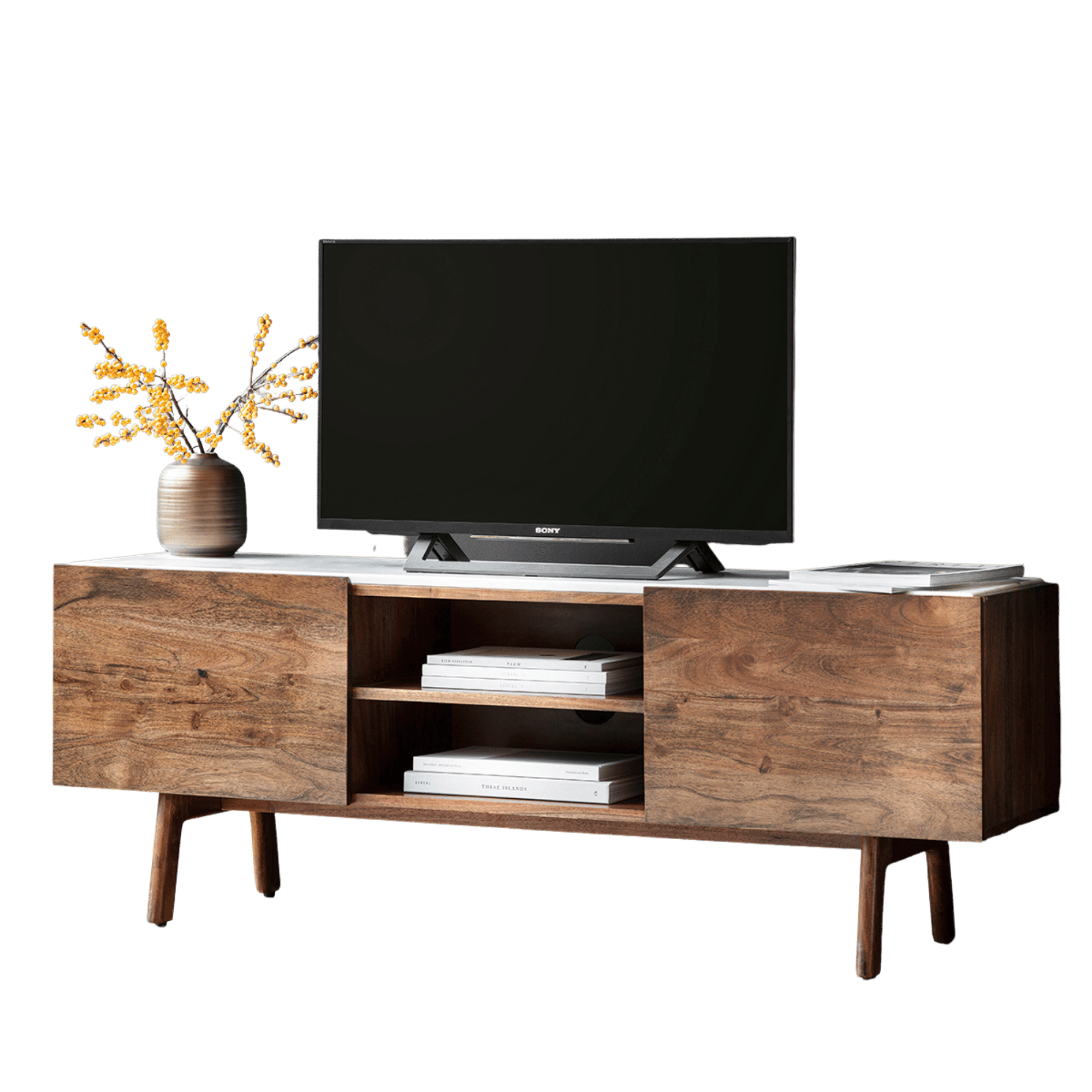 Fast & Free UK Mainland Shipping


No Quibble Returns Policy

BLACK NOVEMBER DEALS ON NOW
Filters
Save $404.00
Save $26.00
Save $98.00
Save $25.00
Save $257.00
Save $25.00
Thinking about a wood TV stand ..
Upgrade Your Living Room with Stylish Wood TV Stands
Say goodbye to clutter and hello to style with our collection of natural wood and sustainable mango TV stands. Not only are they perfect for keeping your entertainment system organized, but they also add a touch of elegance to any space. With a variety of shapes, sizes, and finishes, our TV stands are a must-have for every family living room. Featuring shelves, cupboards, and drawers, they provide the perfect storage solution for your media setup. Choose from stunning handmade natural mango wood, hand-carved designs, or incorporate rattan or painted elements for a unique look. Whether your style is classic or contemporary, we have the perfect TV stand for you. Prefer a minimalistic design? Our mid century TV units are ideal for a classically understated look. Make a statement in your contemporary home with a blend of industrial-inspired touches and a warm, natural oak-ish mango base. Upgrade your living room today with our smart and practical wood TV stands.
Big or Little, we have the answer
Upgrade your TV setup with our stylish wood TV stands. Whether you have a small or large television, we have the perfect solution for you. Wall mount your big screen and add one of our spacious TV units underneath to anchor your space and store your peripherals. Our large TV cabinets are not only sturdy and built to last, but they also come in a range of modern or classic styles to match your interior. Looking for something more compact? Our mini TV units offer storage, display, and clutter management, all in a sleek solid hardwood design. From small to spacious living rooms, our Mini Century Wood TV Stand collection combines style and simplicity to transform your TV corner. Find the perfect TV stand for your home today.
Upgrade with Rustic Wood TV Units
Add a touch of tradition to your living room with our charming TV units. Featuring a natural oak-ish finish and antique-effect handles, these units are perfect for those looking to create a more classic look. Stay organized with ample storage options, including large drawers for spare cables and remote controls. The wide shelf provides space for your TV box and other entertainment peripherals. For a country-cottage vibe, opt for our raw and rustic solid mango wood TV stand. With its vintage appeal, it's sure to stand the test of time.
Bring elegance to your space with painted traditional wood TV units in shades of grey, taupe, or blue. These units also feature rustic oak tops, adding a beautiful contrast to the solid wood base.
Our Wood TV Stands
Upgrade your living room with our stylish and diverse collection of Wood TV stands. Crafted with care from high-quality wood, each stand features a stunning variety of finishes - from natural oak-ish to deep chestnut and grey wash. Whether you prefer rustic charm or sleek elegance, our solid hardwood units come in a range of styles, including hand painted and hand carved designs. Transform your home interior and find the perfect Wood TV stand for your space.