Fast & Free UK Mainland Shipping

No Quibble Returns Policy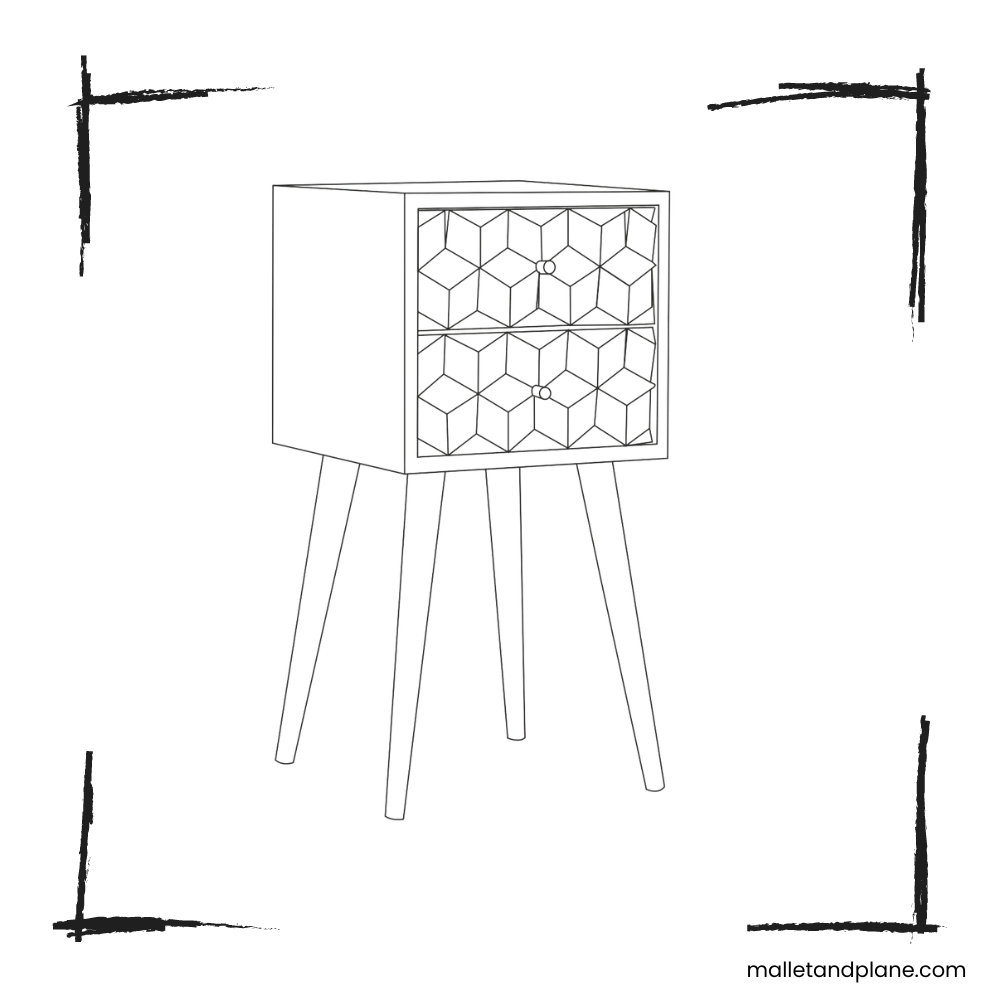 Mallet & Plane's mission is to bring you amazingly beautiful furniture and homewares that you'll love.
When we select our products we seek quality craftsmanship, naturally
sustainable materials and innovative design solutions.
We want you to enjoy great quality products that won't break the bank.
We have a 30 day no quibble return guarantee and we promise to give you a quality service that ensures your satisfaction.
If anything is not right, just let us know and we will get to work on fixing it.
Your Questions About...
Chests of Drawers
What is a Chest of Drawers?
A chest of drawers is a type of furniture that is typicallyused in bedrooms for storing clothing. Chests of drawers are usually made out of solid wood and have multiple drawers of various sizes that can be used for different items of clothing. Some chests of drawers also have a top surface that can be used for displaying photographs or other items. They are usually placed against a wall in a bedroom, but they can also be used in other rooms such as home offices or living rooms. Chests of drawers come in a variety of styles, from traditional to contemporary, and can be made out of many different materials such as oak, pine, mahogany or mango wood.
Is it Chester Drawers or Chest of Drawers?
Most bedroom furniture sets will include a dresser or chests of drawers. These pieces of furniture are essential in any bedroom as they provide a place to store clothing, linens, and other items. While most people use the terms "chest of drawers" and "dresser" interchangeably, there is actually a difference between the two pieces of bedroom furniture. A chest of drawers is typically taller and narrower than a dresser, and it usually has several small drawers stacked on top of each other. A dresser, on the other hand, is wider than a chest of drawers and generally has two rows of larger drawers. Whether you call it a chest of drawers or a dresser, this piece of bedroom furniture is essential for any home. It isn't a Chester Drawers, that's for sure!
Why is it called a Chest of Drawers?
The furniture piece known as a "chest of drawers" is so named because it consists of a set of drawers that are stacked on top of each other, similar to the way a person's chest is stacked on top of their abdomen. This type of furniture is typically used in a bedroom as a means of storing clothing and other items, and is often placed against a wall or at the foot of a bed. The chest of drawers dates back to the 17th century, when it was first introduced in England. It quickly became popular due to its function and stylish design, and remains a popular furniture piece today.
What is the standard size of a chest of drawers?
The standard size of a chest of drawers is typically 80cm in width, 100cm in height and 40cm in depth. However, there is some variation in sizes depending on the manufacturer and the style of the chest of drawers. For example, mango wood chest of drawers are often slightly larger, with dimensions of 85cm x 110cm x 45cm. You can find detailed measurements for specific chest of drawers on websites like malletandplane.com. Ultimately, it is best to measure the space you have available before purchasing a chest of drawers to ensure that it will fit comfortably in your home.
How to remove the drawers from a Chest of Drawers.
Most chest of drawers come in two parts: the main body of the unit, and the drawers themselves. If you have a self-assembly unit, the drawers will usually be shipped separately and will need to be attached to the main frame. On ready assembled units, the drawers are usually already attached but can be removed for transportation or cleaning. Whichever type of chest of drawers you have, the process for removing the drawers is typically the same.
First, locate the release mechanism on the back or underside of the unit. This may be a simple lever or knob, or it may require a key. Once the release mechanism is engaged, the drawers should slide out easily. If they are stuck, gently tap them with a rubber mallet until they loosen. With self-assembly units, you may need to remove screws or bolts before taking out the drawers. Be sure to keep track of all hardware so that you can reattach the drawers when needed.